The Summer Fair at the Church on Saturday 22 July was sadly far from summery. Nevertheless, the hardy souls who turned up were treated to an amazing display of local talent.
Fortunately, there were gazebos to shelter under whilst reading all about the latest planning developments in a display by Wareside Parish Council, alongside information from Wareside Entertainers. Pru Green brought a selection of her beautiful hand-carved ducks and Henrietta Buxton mounted a display of her lovely photographs of local and African wildlife. Mike Green, suitably smudged with soot, chugged in past the gravestones on his own steam traction engine, and answered questions from a fascinated audience all afternoon. (I am not qualified to say anything intelligent about how he built this wonderful machine so might have to ask him to write an article for a future issue!)
In the Church were displays of artwork by Marion Sheraidah and members of her Wareside Art Group, and Annemarie Oshelda and George Gill, who plan to hold a joint exhibition at Courtyard Arts in Hertford in the near future. There were also paintings and mosaics by Elaine Shutt and Carol Batten, and Mabel Saville had a stall for the knitting she does for the Hope Christian Charity. Music was provided from the keyboard of David Goodman, and later in the afternoon, Annemarie also played some memorable melodies.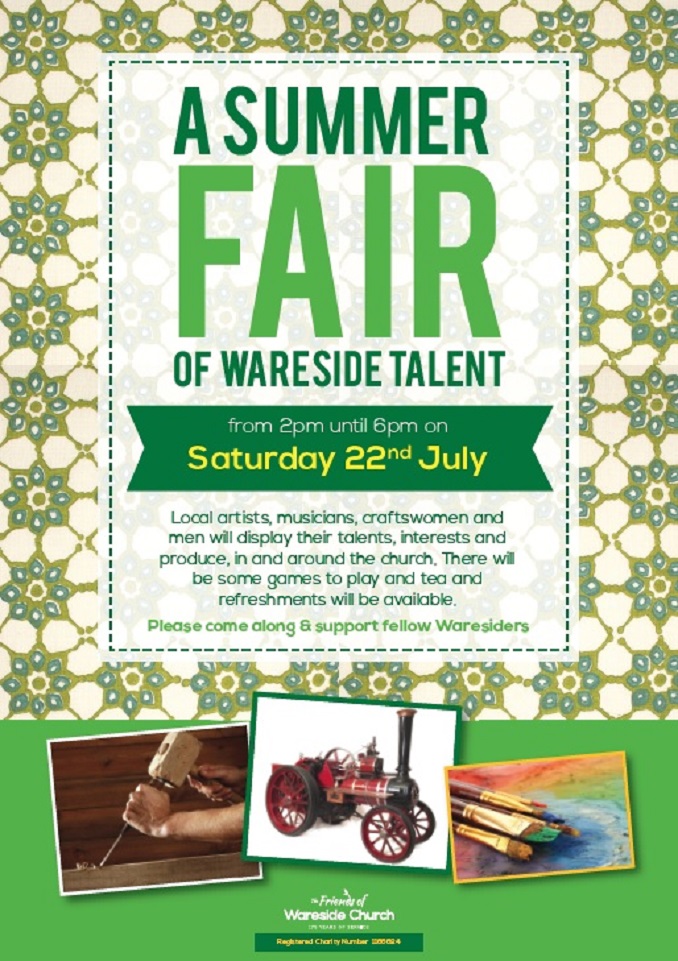 Outside again, to the excellent tea tent with terrific cakes made by Lucy Wood and Sarah Hart, and demonstrations of spinning (wool, not the other sort) by Mary Hicks and very intricate hardanger embroidery and cross-stitch by Irena Ryan. So, quite an outing of local talent. A huge thank-you is due to The Friends of Wareside Church who organised the event and all those who braved the weather to attend.
Reproduced with permission from the Waresider