Music lovers from Wareside and beyond were treated to a superb evening of jazz & blues on the 6th of May. We were incredibly lucky that jazz legend James Pearson offered to lead a fund raiser for the Friends of Wareside Church. With James on piano, Sam Burgess on double bass and Polly Gibbons on vocals, they played a set titled the Great American Song Book.
James is Artistic Director at Ronnie Scott's and a hugely talented pianist and musician. Polly is a wonderfully versatile jazz and blues singer with a rich and soulful voice and Sam a real stalwart of the UK jazz scene. It was an absolute privilege to have musicians of this calibre playing in Wareside. It's no exaggeration to say the evening will live long in the memory of those who supported it. Not just for the quality of the music but also the sound and lighting, expertly assembled by Paul and David Goodman, that gave the concert the professional atmosphere it deserved.
The church is proving to be a great venue for music. The acoustics are great and with viewing in the wings as well as the nave and transepts everyone gets a good view. Around 200 tickets were sold which is a huge success for a small village like ours.
Paul Goodman and Nicholas Buxton deserve enormous credit for organising such a successful event. Weeks of planning went into it and it was only possible due to their hard work and commitment and the support of family & friends.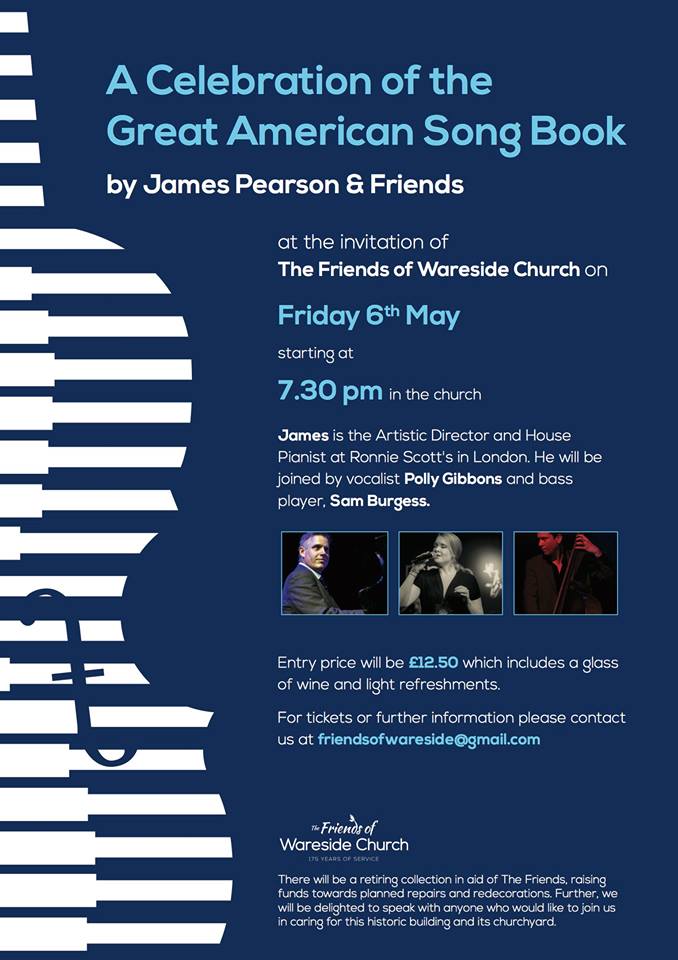 The list of people to thank is a long one. In no particular order, Danny & Jo who spent hours making and then donating all the sandwiches. Sarah, Florence, Rachel, Nicola and Vanessa for cleaning the church. Alastair Smythe who produced the leaflets and posters for free. Sarah & Flo and Mandy Shevlin for making canapes and cakes and all the ʻhandsʻ who so efficiently distributed drinks and refreshments during the interval. The collective Buxton family for doing a fabulous job of clearing up the following day and finally, a HUGE thanks to James, Polly and Sam for putting on such a wonderful performance. The feedback after the event was fantastic and I'm pleased to say that a few new people joined the ʻFriendsʻ charity. We raised an amazing £2100, so thanks also go to the music lovers of Wareside who turned out in such great numbers.
Getting involved in a community event like this is time consuming but it's really enjoyable and I'd urge people to come forward if they would like to help with future events.
Richard Hart